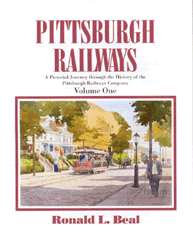 This is the first volume of a 3-volume set of a comprehensive study of the Pittsburgh Railways Company. It offers a pictorial look at all aspects of the company's operation.
Please click the links above for more information on each volume.
8½ x 11 softcover
548 pages
720 Illustrations
$79.95 for Hard Bound
$65 for Soft Cover
Add $6 for Packaging
and Shipping
Announcing Pittsburgh Railways, a pictorial journey through the history of the Pittsburgh Railways Company, by Ronald L. Beal. This detailed book series covers the history of the Pittsburgh Railways Company and all public transportation in Pittsburgh, Pennsylvania including its first horsecars, our short-lived cable cars, all of the fascinating inclines, the 219 separate railway companies that were merged into Pittsburgh Railways in 1902 and the everyday operation of streetcars city-wide up until the 1964 takeover by the Port Authority.

The story of how the single Pittsburgh Railways system evolved is a fascinating one, tied to the history and development of the City of Pittsburgh like a jig-saw puzzle. We have taken on the project here to show how hundreds of small pieces (predecessor companies) will fit together to complete the puzzle and reveal the full picture of Pittsburgh Railways.

Once consolidated, we find a large and most interesting transit system with more unique characteristics than other cities:
Several notable inclines comprised an operating division of PRCo.
Four hundred miles of city street trackage plus interurban lines with local service in those outlying towns.
Multiple-unit trains on city streets.
Regularly scheduled horsecar line alongside electric cars until 1923.
Pittsburgh Railways initially operated five amusement parks; West View Park was the last amusement park in the U.S. to be served by trolleys.
PRCo experimented, designed and manufactured some of their own equipment.
Pittsburgh actually contributed more to the design and development of PCC cars and, considering their tremendous investment in track, overhead and support properties, had more at stake than some other city operators. Pittsburgh Railways and Pittsburgh industries contributed money, ideas, research and development, materials and components -- and Pittsburgh was the first to put PCCs into revenue service.
Extreme terrain resulted in 12% grades, high trestles and the boring of the second longest traction tunnel in the U.S.
PRW on highway bridges.
More than 100 routes were operated, nearly all radiating out from the city center. Some local routes were 15-to-18 miles long contrasted with a number of shuttle routes whose length could be measured in feet.
Had the largest double-deck trolley fleet in the U.S.
Streetcar Postal Service until 1917.
Consolidated Electric Freight served five counties until 1941.
Operated individual routes that were entirely isolated from the main system.
Original PCC service lasted until September 5, 1999, which was longer than most cities with streetcar lines.
And, what other streetcar system hauled coal on a narrow gauge steam railroad simultaneously with electric passenger service on dual gauge track?